Wiki > How to lace Jordan 1?
How to lace up Air Jordan 1?
Different Ways to Lace the Air Jordan 1
The Air Jordan 1 is one of the most fashionable sneakers of all time. What made it even more legendary is that the J1 started as an iconic basketball shoe. It set the path for other Air Jordan signature models to combine beauty and function in athletic footwear. About three and a half decades later, the Air Jordan 1 is still highly coveted because of its remarkable aesthetic that can turn the heads of anyone, even non-sneakerheads.
With varying styles and colorways that made sneakerheads camp-out days before release, the shoe arrived in Highs, Mids, and Lows – all pairs used to instantly sell out within minutes, especially for the OG colorways.
But today, we won't be talking about the Air Jordan 1 colorways. We'll be talking about how to lace the Air Jordan 1. We all know that sneakerheads are open to different types of lacing a shoe – the Air Jordan 1 isn't any different as the laces are one of the most noticeable parts of the shoe. We'll share various ways to lace the Air Jordan 1. Starting from the basics and moving up to the most unique styles.
The article will also talk about the proper method to factory lace the Air Jordan 1, so it would still look fresh – just like it came out of the shop. All this and more – in this Air Jordan 1 Lacing Guide.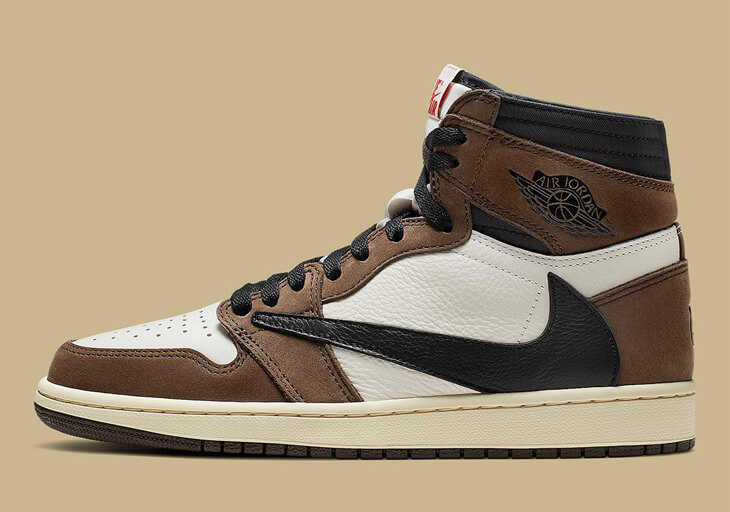 Choosing the Right Way to Lace
Aside from choosing the right outfit, sneakerheads also have their own dilemma on how to add flair to their sneaker's lacing style. It's essential for them because flexing an Air Jordan 1 with unique lacing can make a difference between fashion and comfort. Many sneakerheads always look for new ways on how to tie their Air Jordan 1s.
To start, the Air Jordan 1s use flat laces. You must first take note of the number of eyelets on each Air Jordan 1 to know which lace length is ideal. The Highs have 9 eyelets on each side that run all the way to the ankle collar. The Mids have 8, while the Lows have 7. The regular lace length for the High is 72 inches if you're thinking of lacing them all the way up.
For the Mid, you can opt for a 63-inch flat shoelace which is ideal for its 8-eyestay row count. The 63-inch shoelace is also a great alternative for sneakerheads who plan to wear the Air Jordan 1 without lacing through the ankle collar.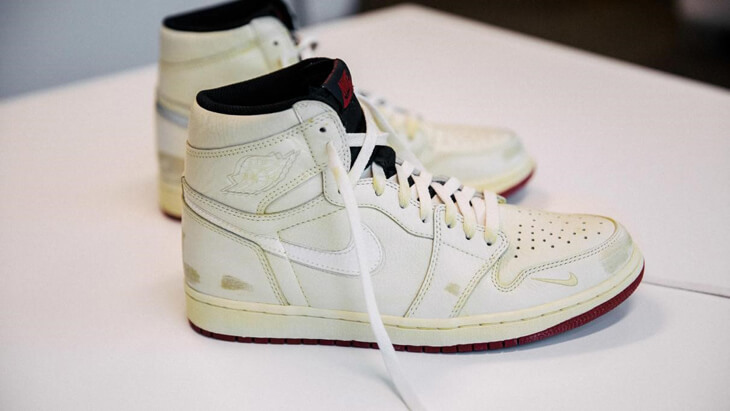 Image from: Nike News
Pictured above, you can see an Air Jordan 1 High being laced until the eighth eyelet. Some sneakerheads actually go below that eyelet and let the ankle collar loose. Another thing to note is that most Air Jordan 1s are unlaced when purchased. This gives sneakerheads the chance to easily do a lace swap with the extra laces provided inside the box. It's also a way to showcase your creativity by using different your pair. The unlaced nature of the shoe was a tribute to the original Air Jordan 1s that arrive unlaced when they first hit retailers. That's how they are factory laced – unlike most common sneakers that has a different factory lace setup.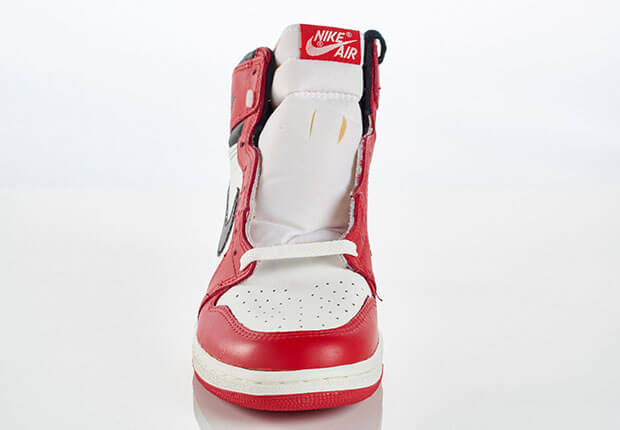 Image from: Sneaker News
As you can see, only the base eyelet is laced. Lacing from the bottom is one of the most common ways of lacing up any sneaker in general. So if you're wondering how to lace an Air Jordan 1 from the bottom, all you have to do is do the classic over and under maneuver. You start by lacing the tips over and come out under from the next eyelet – repeat until you reach the 7th eyelet or go all the way and lace until the 9th.
The criss-cross pattern is the normal way to lace up your shoes. A "No thrills, no-frills" setup – just a straight-up procedure for old-school sneakerheads who flex the shoe and not the lacing system.
Unique Lacing Styles To Try
For the High and Mid, you can refer to the first Air Jordan 1 pictured above for a loose-hanging style. Either you lace until the 8th or 7th eyelet, then pull the laces inside so they don't hang too low. That's what some sneakerheads do to prevent too much ankle restriction and just want to pull the J1's tongue out – for a "modern" swag.
Straight Bar Lace
The straight bar lacing style is a unique look that is perfect for low-cut sneakers. You may do this with your Air Jordan 1 Low, but first, make sure you get the right lace length – which is around 54 inches for the Low. Refer to the picture below taken from a Business Insider article to know how to do the Bar Lace. You may also refer to this guide linked below if you need a video.
🍿 YouTube: HOW TO BAR LACE NIKE AIR JORDAN 1 (THE BEST WAY) 🍿 YouTube: 7 EASY WAYS How To Lace Air Jordan 1 Tutorial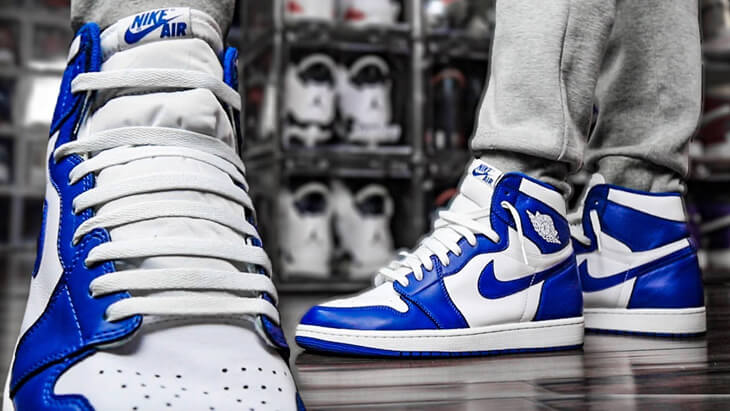 Image from: DNA SHOW
Tight Criss-Cross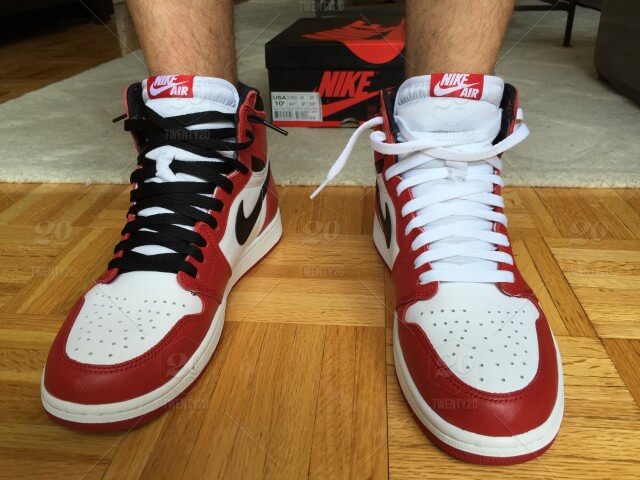 Image from: Nike
Going back to the old-school but make it modern, the criss-cross is still one of the best lacing styles if you're planning to tie an Air Jordan 1. Sneakerheads always have different preferences but if there is one lacing style they can all agree upon, it's the normal criss-cross.
Regular laced-up Air Jordan 1s are actually the way to go, you can even ask sneakerhead communities from Reddit, and they prefer a neat-looking setup for any Air Jordan.
To begin, make sure that the flat laces are of equal length on both sides, then you go over and under from one side to the other – alternate the loops as you elevate from one eyelet and upwards. Creases are inevitable in leather sneakers, so if you don't want to deal with it, don't tie it up too tight and just let it loose – but not too loose to the point that the shoe starts to look flimsy.
---
Now that you have learned some of the tips on how to tie an Air Jordan 1, it's time to get those factory laces out and decide whether you're going to try a new way to lace an Air Jordan 1 or do a lace swap and let a unique but simple flat lace do the magic.
Either way, it's up to you, and don't let other people judge you on what to like – wear your pair in whatever way you want and let your Air Jordan 1 sneakers do the talking.
Article was updated at 04/28/21.