Stores > India > Mumbai > VegNonVeg
VegNonVeg
317/3 First Floor, Union Park Road, Doctor Ambedkar Road, Khar West, Mumbai , India

Customers rating: 80%
| | | |
| --- | --- | --- |
| Monday | 11:00 – 20:00 | 11:00 AM – 08:00 PM |
| Tuesday | 11:00 – 20:00 | 11:00 AM – 08:00 PM |
| Wednesday | 11:00 – 20:00 | 11:00 AM – 08:00 PM |
| Thursday | 11:00 – 20:00 | 11:00 AM – 08:00 PM |
| Friday | 11:00 – 20:00 | 11:00 AM – 08:00 PM |
| Saturday | 11:00 – 20:00 | 11:00 AM – 08:00 PM |
| Sunday | 11:00 – 08:00 | 11:00 AM – 08:00 AM |
---
Questions & Answers
What do I have to do to get a job at VegNonVeg?
Try looking at the Career section of their website and if they don't have one, try Google and search for "vegnonveg career".
Will I be able to shop on the weekend?
They're open both Saturday and Sunday.
Do you have a phone contact for the store?
As of Dec 16, 2021, we have +91 81049 81737 on file.
Does VegNonVeg have their own Instagram?
It looks like we don't have an IG account in our database.
Is VegNonVeg worth visiting?
The store's rating is 80%. Customers love this store.
Similar stores nearby: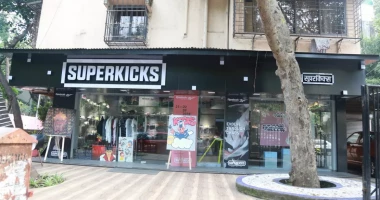 Ground Floor, Yashwant Smruti, Plot No 320, 12th Rd, Near Madhu Park, Khar, Khar West, Mumbai, Maharashtra 400052, India
Did you know?